'Unlearning' Key to Meeting All Students' Needs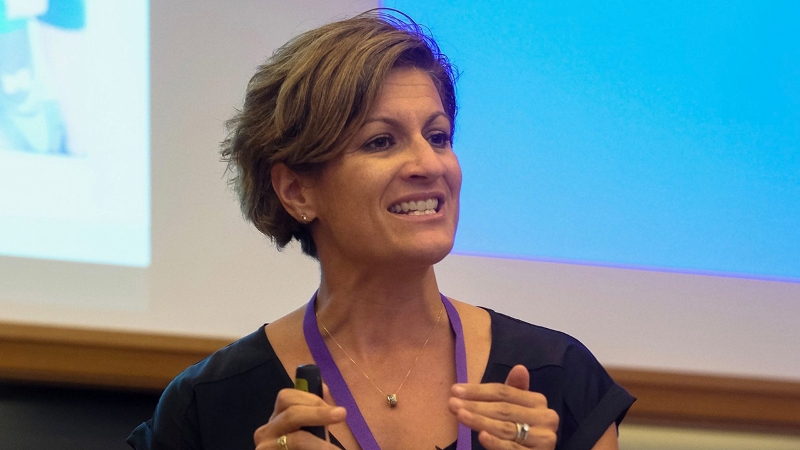 Katie Novak presenting at CAST's UDL Symposium (photo by Felix Rust)
Katie Novak discovered early on there was a better way to engage students in learning. She wrote Unlearning with co-author Allison Posey as a tool to challenge thinking and improve teaching through Universal Design for Learning principles.
"A lot of practices we hold on to work for us but not the students who we currently serve," says Novak, 40, an internationally renowned education consultant and assistant superintendent of schools in Massachusetts.
"'Unlearning' is an important book to challenge people's thinking in the things we think work, don't work," she says. "We have significant inequities."
Changing your mindset is not easy. However, the authors highlight it as a necessary step to reach everyone in the classroom.
"We can't put our comfort above the outcomes of our kids," says Novak, who earned a doctorate in curriculum and teaching from Boston University. "There is absolutely no secret we're not meeting the needs of all our kids, despite working really, really hard. We're expecting students to show success in these really narrow ways."
UDL Principles Guide a Journey of 'Unlearning'
Novak will never forget her own journey of unlearning and the moment she challenged her own way of teaching. She had returned to work from maternity leave and begun implementing UDL in her classroom.
Her seventh-grade class was reading the epic fight scene in "The Outsiders" by S.E. Hinton. One of the curriculum standards was how point of view impacts the plot. A typical assignment requires students to decode the novel, organize, and use fine-motor skills to hand-write their work, "like a recipe," Novak says.
Instead, students chose their method for showing how the book would be different if written from the opposing point of view. They could use the traditional, written open-response method, if that was the best way to share their thinking. They could also communicate it by video, a phone conversation, diary entry, a series of social media posts or texts to friends.
"Kids were asking for extra time, for editing software," Novak says. "I thought, 'Oh my gosh, there is something to this.' It helped me realize … that not every kid could express what they knew written in a one-size way."
After that, it was, "hooray, hooray, it's choice day," she says. Chuckling, Novak adds that those students likely will never forget that book, just as she will never forget that assignment.
'A Teacher's Belief System is Their Greatest Resource'
Novak says her introduction to UDL was "total kismet."
She attended college to become a recreational therapist but lacked the passion for moving forward. Instead, she earned her master's degree and taught high school and middle school English for 11 years.
Novak was teaching in a Massachusetts school district when she was asked to participate in a UDL implementation project. The project — funded by a grant through CAST and called A Tale of Four Districts — needed a cohort of teachers. However, Novak was pregnant with her first child and initially declined to participate.
She agreed after some encouragement and attended training two months after her son was born. At every break, her husband, Lon — whom she met on Match.com before meeting people online was normal — would bring in their baby so she could nurse.
"I fell in love," Novak says of the UDL training.
During an interview for the project, a CAST staff member asked Novak to identify her greatest resource in her UDL journey. "I'm not trying to be fresh, but it's me," Novak responded. "A teacher's belief system is their greatest resource."
That response led to her first speaking engagement at Harvard Summer Institute, consulting work and her first book, "UDL Now!" Novak continues to write and co-write books about ways to utilize UDL. She also designs and presents workshops around the world focused on UDL implementation and universally designed leadership. "Unlearning" is her seventh book.
UDL Guidelines Empower Her Parenting Approach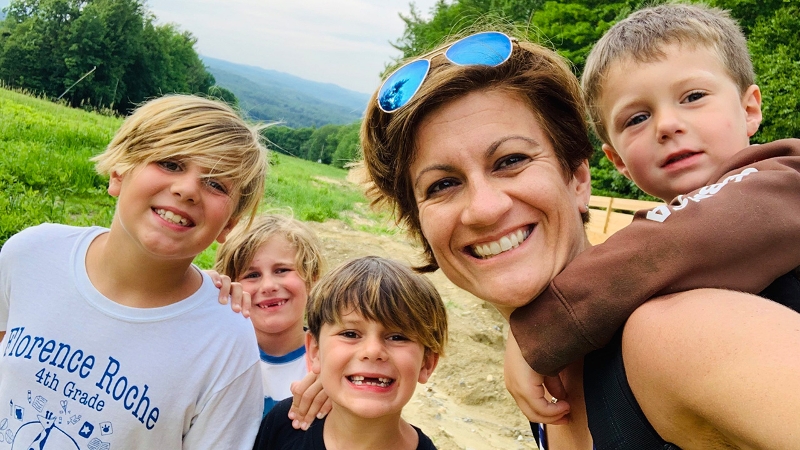 Novak with her family on a hike.
Just as a one-size-fits-all teaching style doesn't support all students, the same is true for parenting.
"My children are wildly different from one another in the most beautiful ways," Novak says of Torin, 10, Aylin and Brecan, 9, and Boden, 5. "One-size-fits-all parenting would never support any of them, and so we always try to be clear about our goals, provide them with options, and then empower them to create their own pathways," she says.
For example, if the house needs to be cleaned, they will say, "Alright, everyone needs to chip in and clean up for 15 minutes. You can do your own room, help in the kitchen, or choose a room out of a hat. Which one do you prefer?" Novak relates. "It's awesome to see them build executive function and have control over their destinies."
For fun, the Novak family loves spending time outdoors together and enjoys hiking, visiting beaches and skiing. Novak herself loves dark chocolate, margaritas, and colorful high heels.
"We just love connecting with woods and nature," Novak says, adding they are "old-fashioned" and eat dinner together every day. The family would not be complete without Emerson, their fluffy Border Collie-Australian Shepherd mix they adopted at age 10.
Unlearning Poses Challenging Questions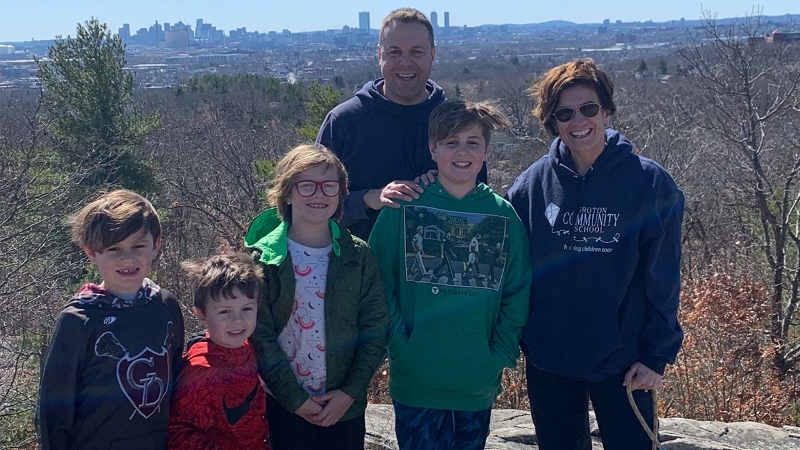 Novak on a hike with her family, overlooking the city.
Novak says UDL is not a lesson plan template or a checklist. It's a framework for eliminating inequities by embracing variability, eliminating barriers, and empowering students to drive their own learning.
As a result, UDL requires an adaptive change in values, beliefs, relationships, and approach to work. "That change is incredibly hard, but so worthwhile and beautiful," she says.
Most curriculum is designed for a mythical "average learner." In other words, a student who is compliant, able to self-regulate, speak English and understand content at about grade level. Novak says there is a belief students cannot learn if they do not fit this mold, due to such things as disabilities, behavioral, social or emotional struggles or trauma.
"It's a myth," she says. "They can't learn using a one-size-fits-all curriculum that doesn't embrace variability and diversity. [These curriculums] are too restrictive for some students. We point fingers at the student. We have to start pointing fingers at the design of the curriculum, so classrooms can support multiple tasks and formats at the same time."
"Unlearning" poses challenging questions. It guides educators to reflect on their own belief systems and how goals can be accomplished in different ways to meet the needs of all students.
"It's not as though you sit down for three hours, and then, 'Ah! I get it!'" she says of "Unlearning." "You'll know where you're going, even though you might not be there yet."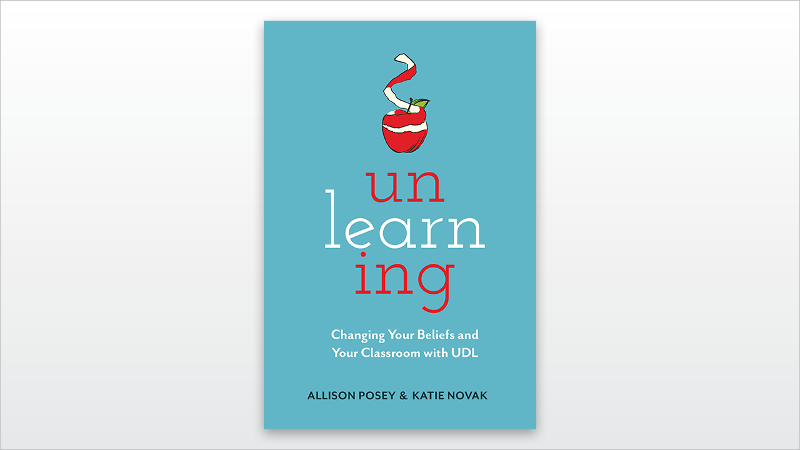 Order your copy today!
Unlearning is available in paperback ($24.99, 128 pages, 6x9″) and EPUB formats ($24.99).