Assistive Technology Wheel
Product
Author(s)
Council for Exceptional Children, Innovations in Special Education Technology Division
Date
2020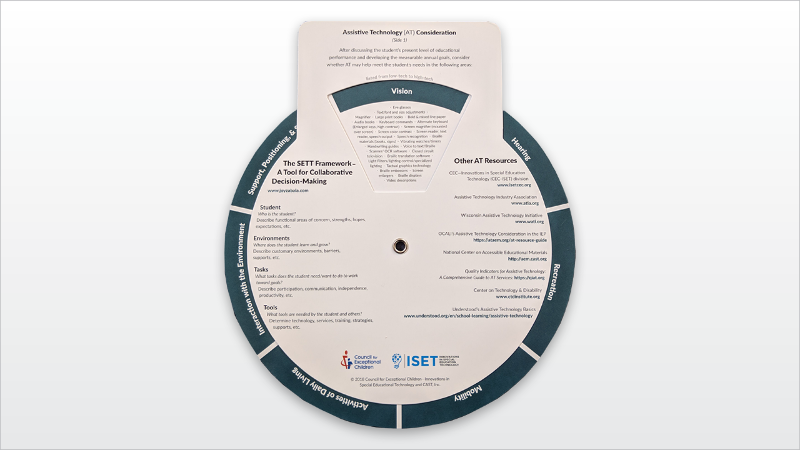 Order Today
Printed Wheel
$11.99 (ISBN: 9781930583368, includes password for EPUB)
Access the EPUB (password required)
About the AT Wheel
For years, tens of thousands of educators, parents, and school leaders used the original Assistive Technology Wheel developed by the Council for Exceptional Children (CEC) to select appropriate resources for Individualized Education Plans.
CAST is pleased to provide an all new AT Wheel with updated content and resources. Created by CEC's Innovations in Special Education Technology (CEC-ISET) membership group, the AT Wheel is a handy, compact tool that maps student needs in a variety of areas to dozens of potential assistive technology solutions.
The two-sided wheel covers with a variety of topics—
Side 1
Hearing
Vision
Mobility
Recreation
Activities of Daily Living
Interaction with the Environment
Support, Positioning, and Seating
Side 2
Communication
Reading Written Composition
Organization/Study
Math
Motor Aspects of Writing
Computer/Tablet Access
For each section, authors identify corresponding digital and analog tools that address the particular needs. The Wheel also has a list of useful AT web resources and an at-a-glance guide to AT considerations in the Individuals with Disabilities Education Act (IDEA).
The Assistive Technology Wheel is available now for $11.99 and includes an access code for the free EPUB edition printed on each wheel.
About the Author
Innovations in Special Education Technology is a membership division of the Council for Exceptional Children. Formerly the Technology & Media group (TAM), CEC-ISET is committed to serving the needs of students with disabilities by promoting innovations in special education technology and related pedagogy, research, and practice. Learn more about ISET.
More from CAST Publishing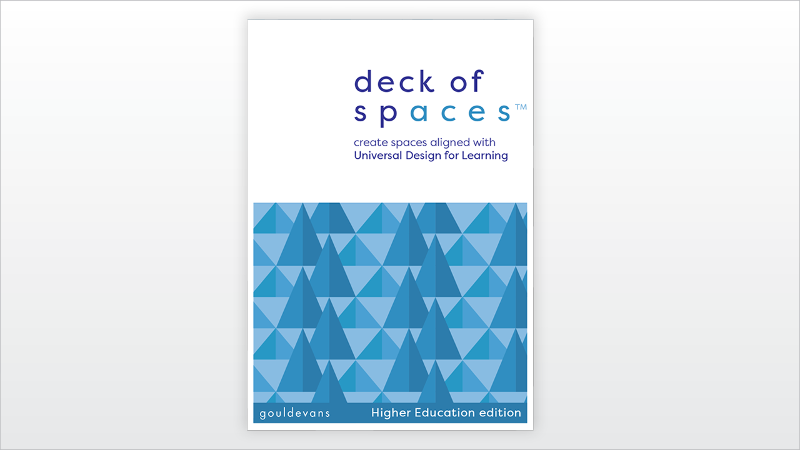 Product
The Deck of Spaces™ cards provide a crosswalk of the research-based Universal Design for Learning principles of pedagogy with best practices in the accessible design of built environments.
Gould Evans & UDL-IRN
2020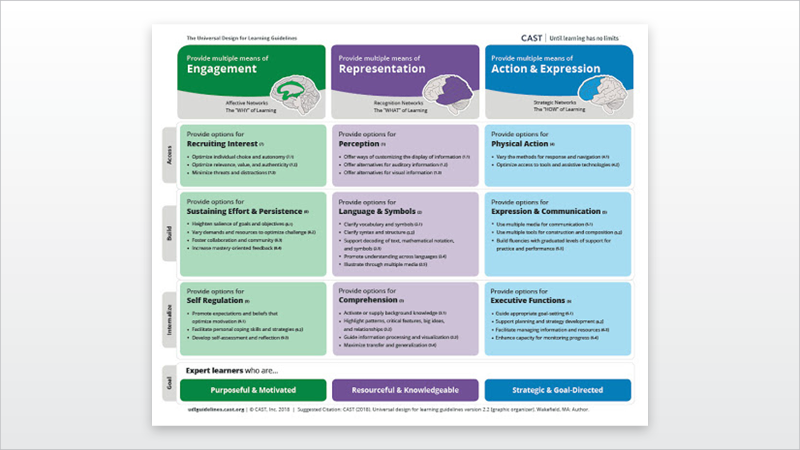 Poster
These posters feature the latest version of the version 2.2 guidelines as found on the UDL Guidelines website.
CAST
2020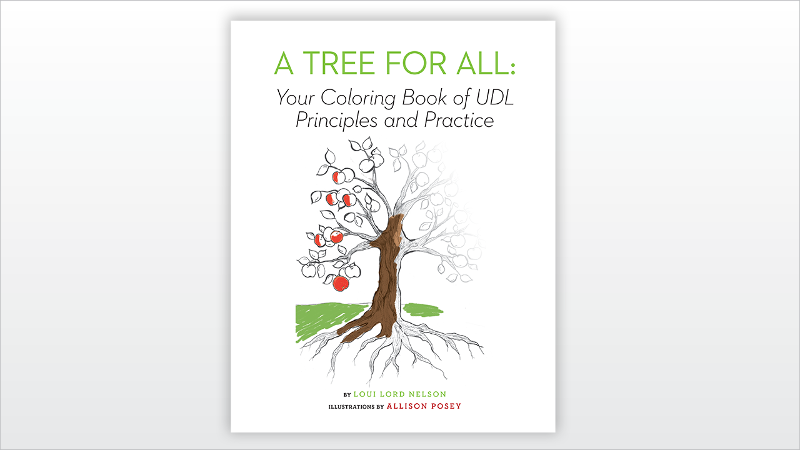 Book
A fun, engaging, and thought-provoking review of UDL theory and practice employing the simple image of a tree using its roots and branches to express the entire UDL ecosystem.
L. L. Nelson & A. Posey
2019
Top of Page