How To Provide Effective Professional Development Remotely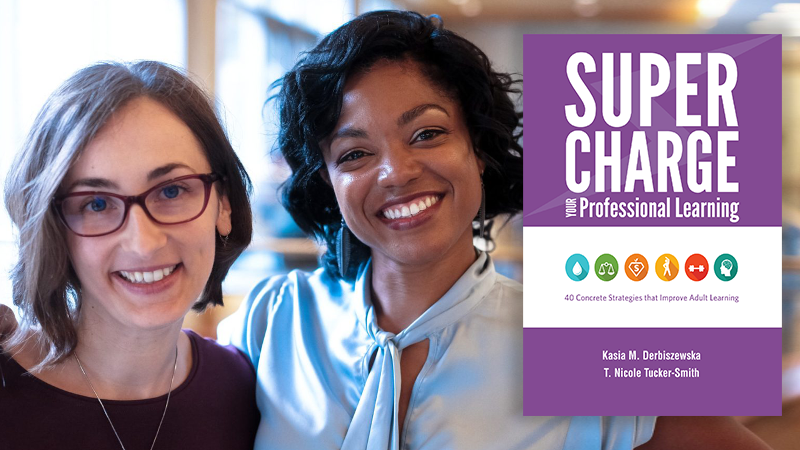 Co-authors Kasia M. Derbiszewska (left) and T. Nicole Tucker-Smith offer tips for remote professional development.
For the foreseeable future, many schools face the Herculean task of offering student learning from a distance—or at least a mix of remote learning and in-person instruction. With so much on everyone's plate, administrators may feel like professional development (PD) needs to go on the back burner. It's in times like these, however, that remote professional development can provide:
The feeling of being connected, not alone.
An inspiring reminder of our purpose.
Just-in-time guidance and resources based on clear needs.
Clear direction on effective ways to make a difference.
Of course this requires professional development to be delivered effectively. As educators have shifted to remote professional learning out of necessity, some PD leaders have had limited opportunity to develop their expertise. UDL experts Kasia M. Derbiszewska and T. Nicole Tucker-Smith, co-authors of Supercharge Your Professional Learning (CAST, 2020), have developed the following tips for improving remote professional development using a health and wellness metaphor. These tips focus specifically on designing and delivering effective remote PD in a way that anticipates barriers, supports adult learners, and encourages meaningful relationships during times when human connection matters most.
Eliminate Toxins: Remove Resistance to Change
Similar to in-person professional learning experiences, removing toxins to remote professional development begins by openly addressing potential adult learning barriers. Prior to the session, let participants know what technology applications (e.g., Zoom, Google Docs), platform features (e.g., screen sharing, breakout rooms), and participation tools (e.g., audio/video share, reactions, chat) they will be using. Consider providing screenshots, links to brief tutorials, or time before the session to orient participants to the remote learning space. Let participants know their options for perceiving information and responding during the session. Also consider using two-way communication options before synchronous sessions to uncover participants' looming questions. For example, in the webinar invitation email, include a brief description of what to expect and encourage participants to send questions about the topic in advance.
Anticipate technology speed bumps: Provide a preview of what tools and/or platform features participants will use.
Uncover looming questions: Use pre-session communication to gather participants' questions, concerns, or hopes about the professional learning experience in advance.
Balance Your Diet: Digest Remote Professional Development Content
During synchronous remote PD, resist the urge to lecture from slides the entire time. Find authentic ways for participants to engage and contribute to the session. Instead of abandoning the interactive strategies that might have been used face-to-face, consider remote-friendly options. For example, use breakout rooms to promote discussion and collaboration among participants. In addition, consider working with a co-host who can help manage the breakout rooms, monitor collaborative workspaces, respond to questions in the chat, and weave in additional resources.
Break it out: Use breakout rooms to divide into smaller groups and allow participants to learn from each other.
Share the workload: Partner with a co-host who can weave in additional resources, further learning, and answer participants' questions.
Choose Superfoods: Select High-Impact Strategies
Multiple screens, distractions, and the urge to multitask can make it hard to focus in remote professional development sessions. Pack a punch and recapture participants' attention by being dynamic. Enunciate, inflect your voice, and pause strategically in order to bring energy to the metaphors, stories, and visuals you share. Remote PD is also an excellent opportunity to share stories other than your own. Add voices and value by bringing in an expert, stakeholder, or sharing a student story. Novel, varied, and authentic stories help capture and sustain attention.
Pack a punch: Enunciate, inflect your voice, and pause strategically in order to bring energy to the metaphors, stories, and visuals you share.
Add voices: Expand the conversation by bringing in an expert or other stakeholder.
Remember to Stretch: Reflection Expands Possibilities
Remote professional development presents unique challenges regarding reflection. The pressure to disseminate information in remote PD often undercuts opportunities for reflection; therefore, the placement of these opportunities is critical. To improve comprehension and increase transferability, intersperse opportunities for reflection throughout the session rather than solely at the end of the session when participants likely are shifting their attention elsewhere. Interspersed opportunities for reflection will encourage participants to connect the dots, catalog the new learning with what they already know, and actively use that new learning in their practice. Remember also to leverage protocols. Be clear on the reflection prompts and how participants can share their ideas, whether in a breakout room, on a Google Doc, or on a downloadable note-taking guide. For independent reflections, strategically integrate reflection opportunities with stretch breaks. Set a timer so participants can monitor the time.
Connect the dots: Provide frequent opportunities for participants to reflect and connect the learning to their practice.
Leverage protocols: Be clear on the prompts and how participants can express their ideas.
Use it or Lose it: Build Habits to Sustain Professional Growth
To facilitate participants' application of the content beyond the immediate professional development experience, carefully design the follow-up asynchronous support options to be as easy to access and use as possible. For example, in addition to sending the link to a recorded webinar, add time stamps that align to the key chunks of information. If using slides that visually chunk the information, this should be easy to compile and will improve the usability of the session recording for those who were unable to attend or who want to review specific sections. Instead of simply sending a link to the saved chat, review the contents and organize key tips and resources. Make sure that all participants have access to any work that was collaboratively created during the session. Put all post-session materials in one central, easy-to-find location that is convenient for participants.
Clear the clutter: Provide organized shortcuts to post-session materials by time stamping recordings and highlighting key information saved in the chat.
Offer one-stop shopping: Put all post-session materials in one, convenient location.
Be Mindful: Pay Attention to Designing with Intention
Intentionally design the remote landscape to attend to the participants' needs in real-time. Incorporate strategic opportunities for participants to use polling and reaction tools (e.g., thumbs up, applause, slow down/speed up, coffee break) to reveal what participants may be thinking, feeling, or needing. Be intentional about pacing. Rather than waiting to offer a Q&A segment at the end of the session, remember to build in frequent Q&A opportunities throughout the remote PD. As you wait for participants to interact with you in any way, double the wait time as it takes longer for participants to toggle computer screens and to type their thoughts and questions.
Read the remote space: Use tools that will draw out additional information about what the participants may be thinking, feeling, or needing.
Expand processing time: Build in Q&A times throughout the PD and double the wait time.
Delivering high-quality remote professional development can feel overwhelming, but it doesn't have to be if you follow these tips. For more strategies on how to supercharge your PD, check out Supercharge Your Professional Learning.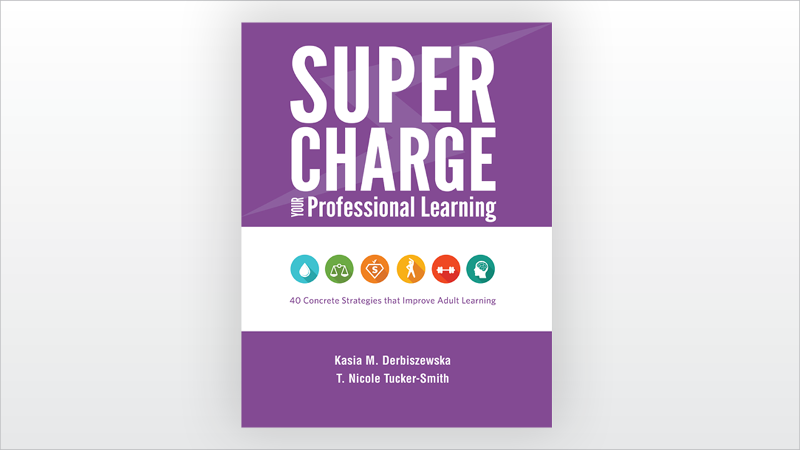 Order your copy today!
Supercharge Your Professional Learning is available in paperback ($34.99, 154 pages, 8.5x11") and EPUB format ($34.99).