'Transforming Outcomes Drives My Work'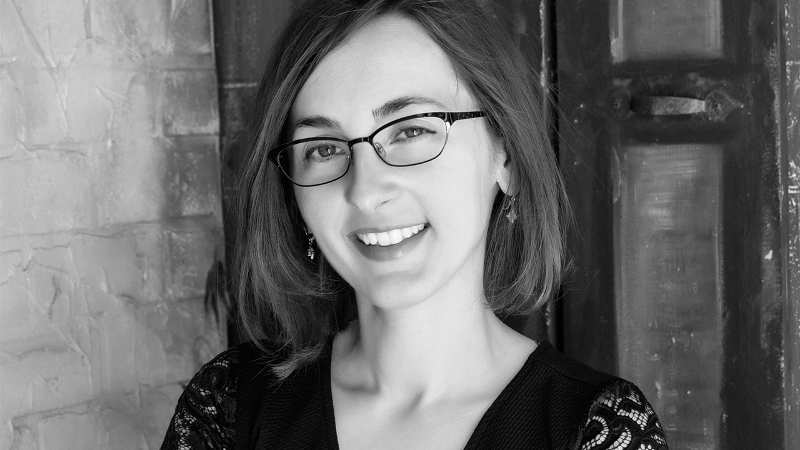 Author Kasia Derbiszewska
A world without boundaries is a world Kasia Derbiszewska knows well. She sets no limits on herself as a learner, creator and entrepreneur, and she applies that same 'no-boundaries' approach when teaching others. Says the professional development consultant and educator, "The brain truly is limitless."
Derbiszewska (pronounced Der-bih-sheh-ska) continues, "When we give learners various ways to explore what they know — to recruit their interest, to comprehend information and to act and express what they know — we begin to see the true potential."
In her vision of life and learning, Derbiszewska sees the possibilities as endless for applying Universal Design for Learning. The framework gives educators the tools to systematically remove barriers while providing flexible learning environments to achieve high-level goals.
She also finds the application of UDL theory and practice in the most unexpected places. As examples, she cites consulting with businesses, integrating UDL principles into vocational training, and parenting with a UDL mindset.
"[Standardizing the learning process] does not reflect the unique variability of each and every learner," she says. "Rather, when we personalize the learning environment, we allow learners to work at the edge of their potential."
UDL Breaks Boundaries for Professional Development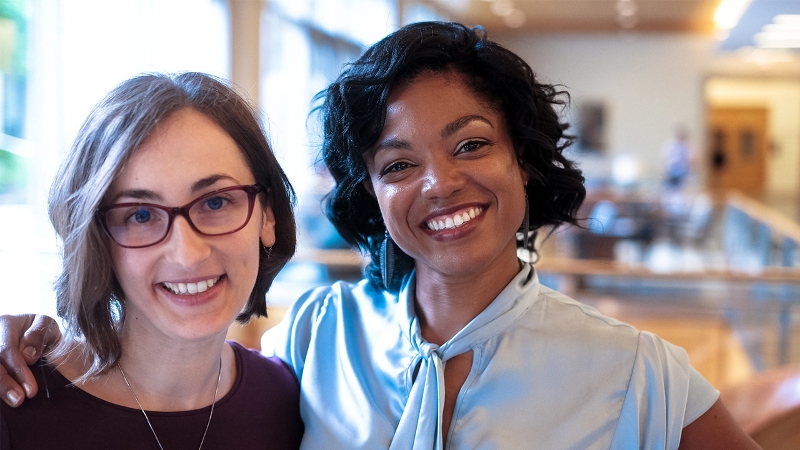 Derbiszewska and T. Nicole Tucker-Smith, co-authors of "Supercharge Your Professional Learning." (Felix Rust Photo)
Working with T. Nicole Tucker-Smith, Derbiszewska co-authored "Supercharge Your Professional Learning: 40 Concrete Strategies that Improve Adult Learning."
The CAST book shares practical strategies designed to help create adult learning sessions that are compelling, convincing and sustainable. "[It] uses a UDL approach to address topics that are central to all professional learning experiences," she says.
The target audience for "Supercharge" includes anyone who leads, designs or supports professional learning experiences. That includes professional development designers, instructional coaches, principals, or support staff involved in professional learning experiences for adult learners.
"Over the years, we have developed strategies and routines that have been highly effective in professional development," she says. "Writing 'Supercharge' was a way for us to share those ideas and strategies."
Derbiszewska hopes readers use the advice for professional learning as a catalyst for transformation in the classroom. "When educators see the value of these experiences and can connect the new learning to the other things they are doing, they are more likely to apply the learning to the classroom," she says. "Transforming student outcomes drives my work."
With adult learning, professional development experiences also need to take variability into consideration. Reducing barriers to learning and sustaining that learning with built-in, long-term support systems are key, she adds.
Family Sparks Pursuit of Learning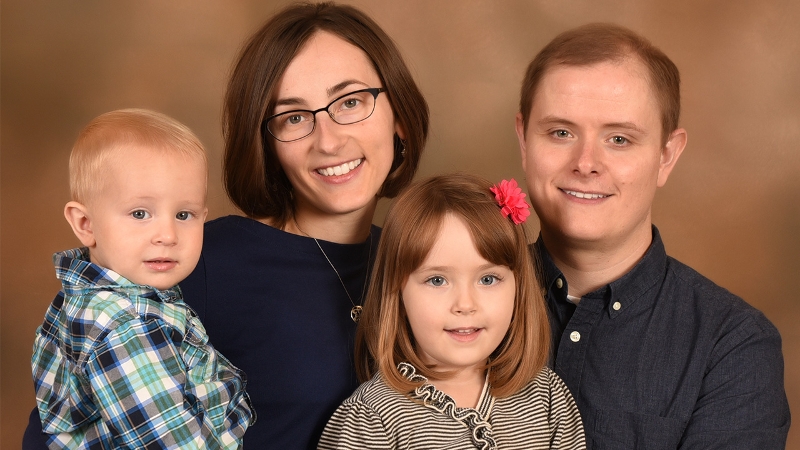 Derbiszewska and husband Matt Riecken use UDL to support the natural developmental changes of their children. (Derby Photo)
With a family of educators as her role model, Derbiszewska says a lifelong passion for learning drives her motivation. "Teaching runs in our family," she says. "My mother is a teacher, my grandfather is a retired superintendent and historian, and my aunt is a principal. The conversations and support I have had from my mother over the years have fueled my passion for learning."
A citizen of Poland and the United States, she moved to the U.S. when she was 3 years old. Her parents were young immigrants in their 30s, working hard to create a life Derbiszewska finds inspiring to this day.
"They are a living manifestation of the American Dream and continuously have shown me how to work hard and apply myself," she notes. "I stand on the shoulders of their hard work, dedication and commitment to excellence and learning."
She recalls a childhood filled with creativity. Her mother taught her how to learn and set the foundation for success at home. Her father, an outstanding photographer, continues to run his own photography studio.
'Children Are Our Future'
Now Derbiszewska and her husband Matt, who works in educational technology, inspire their two children in the same way. They enrich their children's lives by speaking Polish at home in addition to English, as a way to share their Polish heritage.
"Motherhood has allowed me to see the beauty of variability in such a personal way," she says. "I am constantly asking myself what my goal is and where I can be flexible.
She adds, "I also reframe situations for myself regularly by asking how the design of our home environment can better support the natural developmental stages of our children."
"My children are my world," Derbiszewska continues. "I work daily to create a more equitable learning environment not only for them, but for all learners. Children are our future."
A No-Boundaries Approach to Life and Professional Learning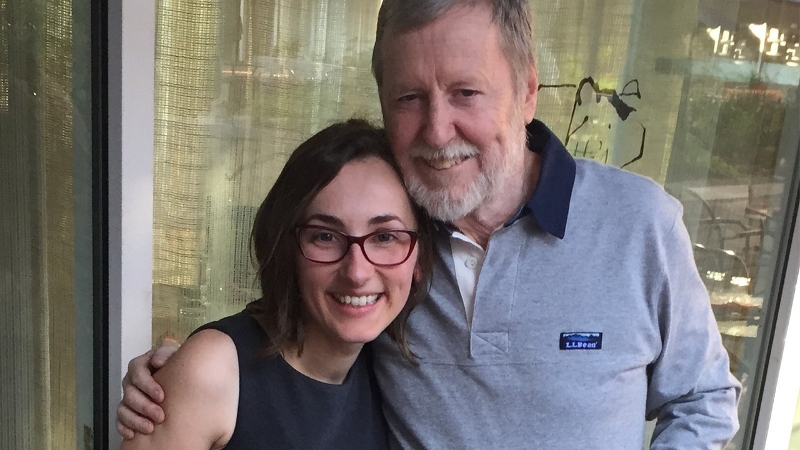 Derbiszewska with David Rose, a developmental neuropsychologist, educator and CAST co-founder. (Author Photo)
Moving to the United States and adding a new language to her repertoire at such a young age was only the first of many boundaries Derbiszewska strived to break. Her world today offers boundless opportunities to learn, especially when she travels internationally for business and pleasure.
She believes the UDL guidelines can be applied in a number of arenas, both literally and figuratively. For instance, she skillfully applies what was intended for a UDL classroom to the curriculum for a riding arena in her work with Reins of Life, an equine-assisted therapy program.
The northern Indiana resident also uses community Paint Night programs as a metaphor for UDL when she works with teachers. Most recently, she facilitated a webinar for schools in Saudi Arabia. To overcome the language barrier, she employed live-captioning software to auto-translate English into Arabic.
A member of the CAST National Faculty, she says the role allows her to connect with like-minded thinkers. "I absolutely love the work I do and feel incredibly fortunate to work in designing flexible learning environments," she says. "UDL has allowed me to approach everything I do with a design mindset. When working with others, I am flexible about the pathways to success because I know that everyone takes a different approach to expressing knowledge."
Learners Need Support Tools and Scaffolds
Derbiszewska began her career as a high school English teacher, with classes ranging from freshman English to Advanced College Placement instruction. During this time, she discovered that all learners are truly unique and diverse. They can achieve high levels of success, she adds, when provided with the right support tools and scaffolds.
Her passion for neurodiversity led her to the Harvard University Graduate School of Education. Enrolled in the Mind, Brain and Education program, she completed her Ed.M in 2011. Derbiszewska then became a project manager at the HGSE researching complex causality.
Combining Passions into 'Dream Job'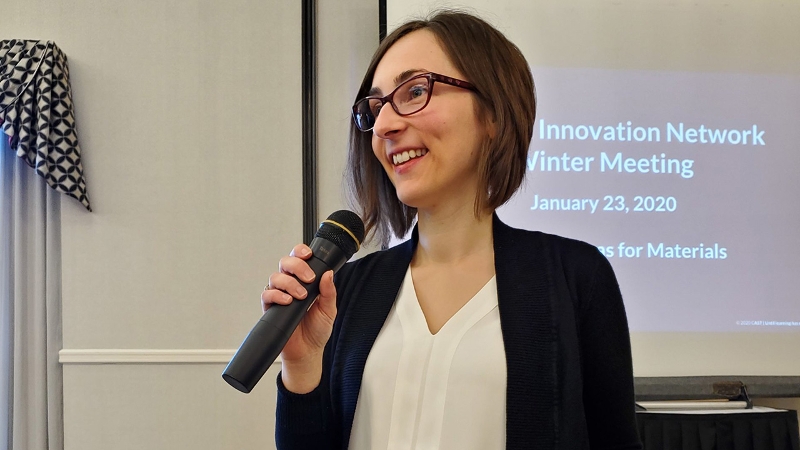 Derbiszewska speaks to a group attending the New Hampshire UDL Innovation Network winter meeting. (Author photo)
Over the years, Derbiszewska has worked to combine her passions and interests from three diverse areas — teaching, educational neuroscience, and research — to create what she now considers her dream job: educational consulting.
As co-founder and CEO of Learning Key Educational Consulting and Development, she's dedicated to translating educational research into action-oriented strategies for schools and other organizations. Her mission through Learning Key exemplifies her passion for ensuring access to high-quality learning opportunities for all learners.
In starting her own consulting business, she credits her parents as inspiration. "Launching Learning Key, LLC, is truly a nod to both of my parents — from my mother's expertise in teaching to my father's entrepreneurial spirit," she says.
She now travels nationally and internationally working with schools, districts, Departments of Education and other groups to transform educational practice through UDL. "I have my dream job where I combine all of the things that I am passionate about," she says.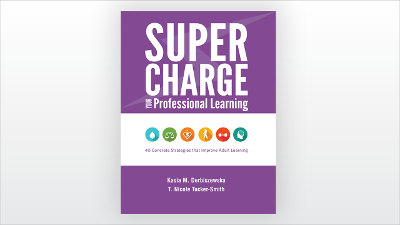 Order your copy today!
Supercharge Your Professional Learning is available in paperback ($34.99, 154 pages, 8.5x11″) and EPUB format ($34.99).