UDL Helps Art Teacher Conquer Challenges
Imagine running a 155-mile race in the Sahara Desert over six days while carrying 25 pounds of gear. Most people would immediately dismiss a challenge of that magnitude as impossible, but not Boston teacher Liz Byron, who conquered the "Marathon of Sands" held annually in Morocco as a creative way to raise more than $50,000 to buy laptops for Gardner Pilot Academy, where she teaches visual arts using a framework known as Universal Design for Learning (UDL). Byron finished 12th overall for women despite being an amateur runner, clocking in as the second-fastest U.S. woman racer in the field of more than 1,000 total participants.
A first-time author, Byron says slowly jogging across that endless hot sand with all of her survival gear and limited water felt similar to the daunting task of writing an educational book for teachers when you're dyslexic and struggle most with written communication. Byron pulled from her own classroom experiences as both a student and teacher to write Art for All: Planning for Variability in the Visual Arts Classroom, a CAST Skinny Book that delivers actionable tips on how to implement UDL practices and make art more accessible for all students.
"When it came to writing the book, I thought about it, and it's another challenge for me," Byron says. "Writing is not my strongest form of communication. This was a way to focus my energy, not through exercise but by trying something new and seeing how it went. Authoring a book certainly had some similarities to tackling the ultramarathon in the desert."
UDL Approach Fits Every Student at Every Ability Level
Byron always welcomes a challenge. She's competed on her high school cross country and college swimming teams, and finished multiple marathons and ultramarathons. Despite being dyslexic, Byron succeeded academically, attending The Harvard Graduate School of Education and earning multiple college degrees during her young career. She holds a Master's Degree in Arts in Education from Harvard, a Master's Degree in Special Education from Lesley University, and Bachelor of Arts Degrees in Studio Art and Elementary Education from Boston College.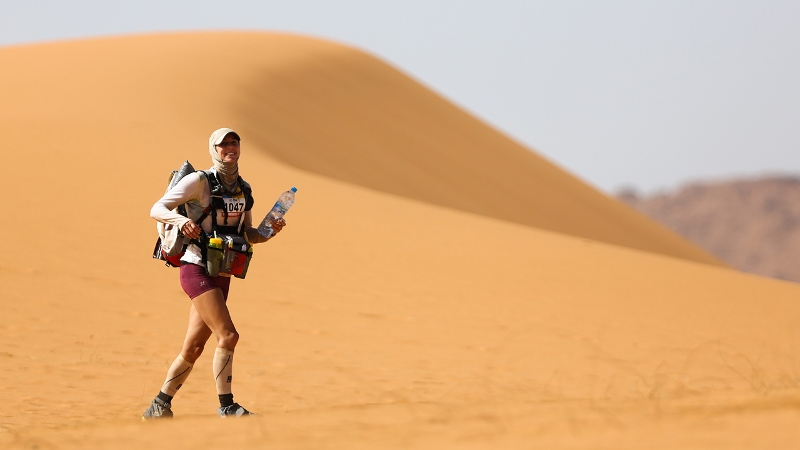 Author Liz Byron participating in the Marathon of Sands
She says she decided to enter the Sahara race after searching online for the "hardest running race in the world" as she brainstormed fundraising ideas for her school. It wasn't traversing the 155 miles in brutal conditions that proved most difficult for Byron. "People were like, 'Oh, that sounds so crazy!' but the actual race was nothing compared to raising the money or teaching. Thinking about how you're going to raise a lot of money was crazy, and very stressful," Byron says.
Her perspective proves a person's innate skill sets and unique perceptions shape how we experience challenges, which is why the flexible UDL approach fits every student at every ability level. Byron teaches pre-kindergarten through eighth grade. She says a quarter of the student population at Gardner have an identified disability and 10 percent of those are also considered inclusion students who typically would be educated in a separate classroom at another school.
In life and in learning, each person struggles with certain types of tasks, while also possessing certain strengths to overcome those roadblocks. Byron found managing the details of a big fundraising project taxing, yet she calls racing up to 50 miles a day in an ultramarathon cathartic and fun, more so when describing her most recent ultramarathon through the majestic Rocky Mountains than the Sahara adventure. "You can wake up and just go run for the day. I love it," she says.
How to Apply UDL in Visual Arts Classrooms
The inherent traits that drive Byron to set big goals in her life also mean battling feelings of being overwhelmed and trying to take on too much at once. That's what sabotaged her first efforts at applying UDL in her visual arts classroom.
Byron first learned about Universal Design for Learning when she took a class at Harvard taught by Dr. David Rose, a CAST Co-Founder and the nonprofit organization's Chief Education Officer who helped pioneer the individualized teaching concept. She says she wasn't completely sold on UDL until after teaching her own classroom for a few years and taking another UDL class.
At first, she made the mistake of trying to change everything at once, when she was already overloaded as a new teacher in Harlem. "I went into it initially thinking everything had to be UDL all of the time and that's not so sustainable. There's a middle balance, and I want my teaching philosophy to represent that," Byron says. "When I was ready, I approached it on a smaller scale. Now, it's very natural and it bleeds into everything I do."
Byron created the UDL book Art for All to give visual arts teachers practical advice and actionable steps to engage every student and inspire them to embrace creating art. When applied with purpose, Byron says the UDL framework helps her classroom operate more smoothly because kids enjoy working on an assignment when given freedom to choose how they demonstrate what they've learned from a lesson.
"By providing multiple options for students that are really strategic, based around potential barriers, more students get engaged in art and have access," Byron says. "Kids are doing things that I didn't anticipate and usually blow my mind."
Her middle school classes just finished learning about the concepts of Paleolithic art versus the characteristics of contemporary art. The goal of this week's lesson to demonstrate in a personalized way what they've learned: apply one- or two-point perspective to create a dimensional image, combining concepts of Paleolithic and contemporary art.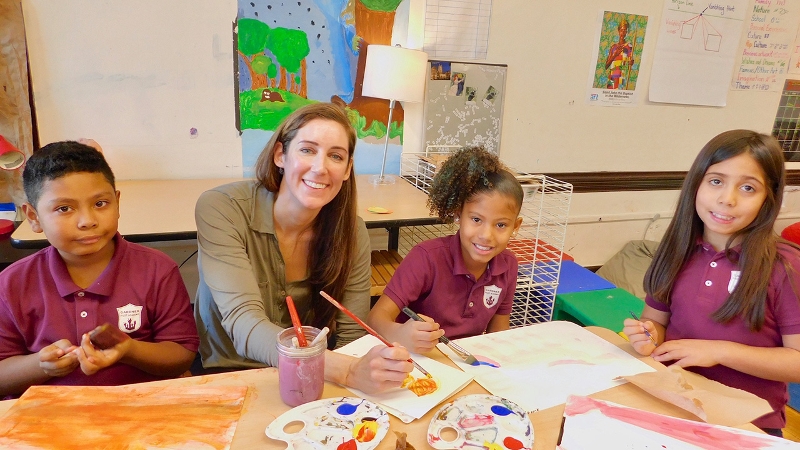 Byron in class with her students
"They have many different ways they can show what they've learned about all of those concepts," Byron says. "Kids are using wires, pipe cleaners and cardboard to make 3D constructions, while others are painting a landscape showing one-point perspective with trees along a road getting smaller as they get farther away."
Byron says UDL helps students meet these rigorous goals connected to core standards but, more importantly, the approach allows her to create a socially and emotionally safe place by giving students tools to express what challenges they're facing on any given day, such as lack of sleep or problems at home.
When a child acted out during a recent assignment, Byron says because the other students were so involved in their self-led art projects she could give the middle-schooler her undivided attention.
Byron's goal is to give every student she teaches lifelong creative coping skills and an appreciation for their inner artist. She knows that for herself pushing personal boundaries through extreme physical and mental challenges helps her stay balanced and grow, and she wants to show kids anything's possible with the right approach.
"I hope the kids are inspired, but of course, I do this more so they become successful adults and productive citizens, so they enjoy art and find joy in it," Byron says. "And so they can find a creative outlet in my classroom. That's definitely No. 1."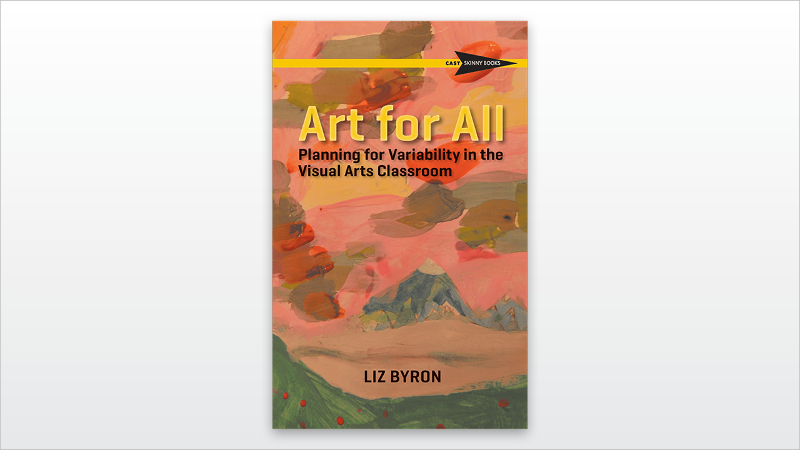 Order your copy today!
Art for All: Planning for Variability in the Visual Arts Classroom is available in paperback ($16.99, ISBN: 9781930583375) and ePub ($16.99, ISBN: 9781930583382) format.