Deck of Spaces™: K-12 Second Edition
Product
Author(s)
Multistudio & the UDL Implementation & Research Network
Date
2022
About the Cards
Beneficial for all stages of the design process, Deck of Spaces™ can be used to evaluate student success, improve business metrics, and engage with new ideas in a collaborative and interactive way.
Utilizing the Universal Design for Learning (UDL) framework, the deck connects concepts of accessibility, equity, and individuality to space design strategies. Ensure your institution is meeting the needs of every individual in school by understanding how to best integrate the three pillars of UDL: Engagement, Representation, and Action/Expression.
Why UDL and Space Design? Space is proven to influence behaviors and perceptions. If we are to empower educators to meet the needs of learner variability and reinforce UDL's inherent quality of supporting diversity, equity, inclusion, and belonging, then our spaces must be the body language to reinforce these everyday efforts.
The K-12 Deck of Spaces™ has been designed through an interdisciplinary collaboration of architects, educational researchers, educators, and learners. We hope it inspires you!
The Deck of Spaces™: K-12 Second Edition is available now from CAST ($38, 77-card deck)!
About the Authors
Multistudio (an evolution of Gould Evans) is a national design and planning firm whose principals and associates are united around a common vision: to create places that transform their surroundings, engage their communities, sustain their environment, and support their clients' missions. They are innovators in the design of education spaces to support UDL and accessible learning for all. Learn more at Multi.studo.
The Universal Design for Learning Implementation and Research Network (UDL-IRN) was formed in 2010 to support the scaled implementation of and research related to Universal Design for Learning. Through collaboration, the UDL-IRN supports and promotes the identification and development of models, tools, research, and practices designed to foster effective UDL implementation in educational environments. Learn more at udl-irn.org.
More from CAST Publishing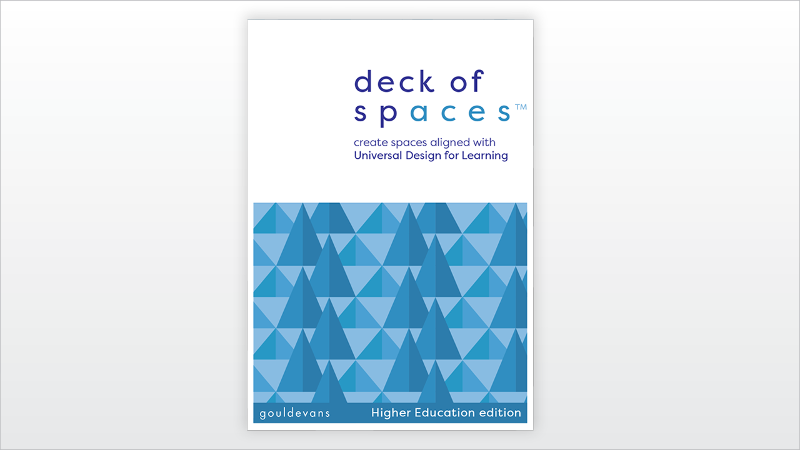 Product
The Deck of Spaces™ cards provide a crosswalk of the research-based Universal Design for Learning principles of pedagogy with best practices in the accessible design of built environments.
Gould Evans & UDL-IRN
2020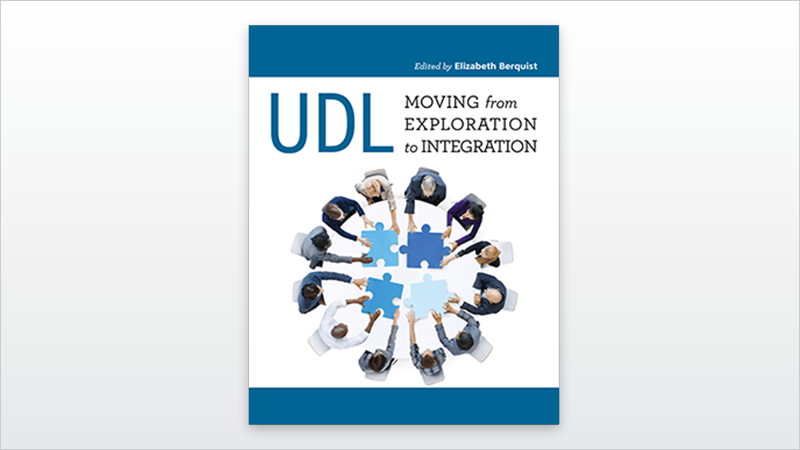 Book
This collection of case stories edited by Elizabeth Berquist showcases the practical challenges and solutions of implementing UDL in systems, states, and schools across the United States.
E. Berquist, ed.
2017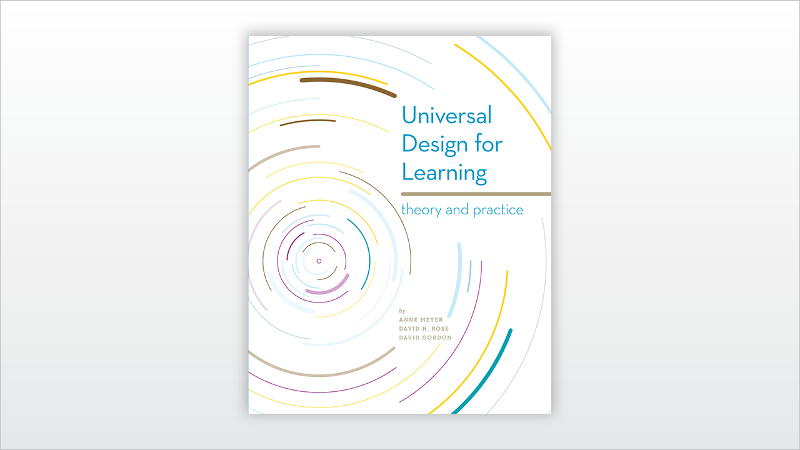 Book
This look at UDL includes contributions from CAST's research and implementation teams, as well as their collaborators in schools, universities, and research settings.
A. Meyer, D. H. Rose, & D. Gordon
2014