Quality Indicators for Assistive Technology: A Comprehensive Guide to Assistive Technology Services
Book
Author(s)
The QIAT Leadership Team: Gayl Bowser, Diana Foster Carl, Kelly S. Fonner, Terry Vernon Foss, Jane Edgar Korsten, Kathleen M. Lalk, Joan Breslin Larson, Scott Marfilius, Susan R. McCloskey, Penny R. Reed, & Joy Smiley Zabala
Date
2015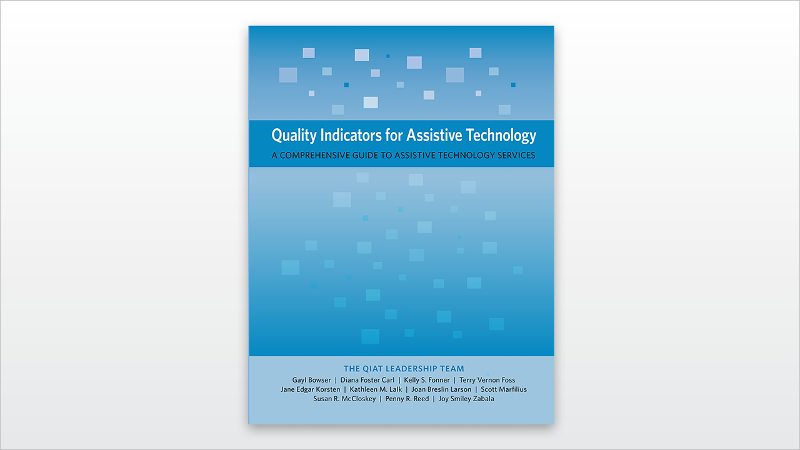 Order Today
Paperback
$49.99 (ISBN: 9780989867450)
---
EPUB
$49.99 (ISBN: 9780989867467)
---
Cloth Library Edition
$99.99 (ISBN: 9780989867474)
About the Book
Work on the Quality Indicators for Assistive Technology (QIAT) began in the summer of 1998 when a group of assistive technology (AT) service providers shared their concerns about the complexity of selecting, locating, and delivering AT and AT services in K-12 and postsecondary environments. They agreed on the need for professional guidelines to improve the quality and consistency of AT delivery. Since then the QIAT Leadership Team has gathered input from more than 4,000 individuals ranging from students and families to school staff, policymakers, and higher education faculty. After many drafts and revisions informed by the field, the result is the Quality Indicators for Assistive Technology: A Comprehensive Guide to Assistive Technology Services.
This book will prove indispensable for:
School districts as they strive to develop and provide quality assistive technology services aligned with federal, state, and local mandates
Assistive technology service providers as they evaluate and constantly improve their services
Consumers of assistive technology services as they seek appropriate assistive technology services which meet their needs
Universities and professional developers as they conduct research and deliver programs that promote the development of the competencies needed to provide quality assistive technology services
Policymakers as they attempt to develop judicious and equitable policies related to assistive technology services
Filled with information and supports such as self-evaluation matrices, suggested activities, checklists, and other helpful tools, Quality Indicators for Assistive Technology is a clearly written and well-organized resource for those who seek to ensure that quality AT services are provided
The QIAT Leadership Team is a group of 11 educators and assistive technology experts from across the United States who together lead a national grassroots community committed to improving the quality of AT and AT services. For more information, visit qiat.org
Praise for Quality Indicators for Assistive Technology
About the Authors
The QIAT Leadership Team is a group of individuals who since 1998 have explored and disseminated ways to improve the implementation of assistive technology. Team members come from many different professional training backgrounds and most have family members with disabilities. They donate their time and expertise to improve and further the implementation of the Quality Indicators for Assistive Technology.
Gayl Bowser is an independent consultant and is an adjunct faculty member at the University of Wyoming. Her work focuses on the creation of service systems that encourage the integration of technology into educational programs for students with disabilities.
Diana Foster Carl is a Licensed Specialist in School Psychology in Texas. She has more than 35 years of experience in various capacities in public education, including leadership roles in national, state, and regional organizations.
Terry Vernon Foss is a special educator with more than 35 years in classrooms for students with autism and with severe and profound disabilities including speech, intellectual, and motor impairments. She is a coauthor of Every Move Counts and Every Move Counts Clicks and Chats.
Kelly Fonner has been a teacher, para-educator, instructional media specialist, and assistive technology specialist since 1986. Currently a consultant, Kelly has worked for a statewide AT project and has been a university instructor in AT.
Jane Edgar Korsten works as an independent consultant, a speech pathologist, and AT resource for individuals of all ages. She has worked in public schools and supported settings for adults' development of Every Move Counts, a sensory-based approach to communication.
Kathleen M. Lalk is an assistive technology (AT) specialist in St. Louis County, Missouri. Her work includes support of students with disabilities, their families, and their educational team in the consideration, implementation, and evaluation of AT.
Joan Breslin Larson is the supervisor for low incidence disabilities and the special education workforce at the Minnesota Department of Education. She is also a consultant to other state organizations and schools on systems issues in AT.
Scott Marfilius assists teams and individuals in assessing students' AT needs. Scott also works with universities and has assisted in reorganizing postsecondary curriculum to infuse technology throughout the teacher-preparation experience. He also consults with individuals and businesses to determine adaptations that are needed in workplace settings.
Susan R. McCloskey is a speech-language pathologist and chairperson of the Volusia Adaptive Assistive Technology Team (VAATT) in Daytona Beach, FL. Susan has consulted nationwide with teams whose focus has been to integrate assistive technology into the classroom.
Penny R. Reed has been a teacher, consultant, and administrator in the field of special education and assistive technology. She founded and directed the Wisconsin Assistive Technology Initiative, a statewide technical assistance project. Dr. Reed is the author of numerous publications about assistive technology.
Joy Smiley Zabala (1946-2021) was Co-Director of National Center on Accessible Educational Materials for Learning based at CAST. She was an experienced general and special educator and the developer of the SETT Framework, a four-part model intended to promote collaborative decision-making in all phases of assistive technology service design and delivery.
Table of Contents
Introduction
Chapter 1: Introduction to the Quality Indicators for Assistive Technology
Chapter 2: Exploring the Quality Indicators for Consideration of Assistive Technology Needs
Chapter 3: Exploring the Quality Indicators for Assessment of Assistive Technology Needs
Chapter 4: Exploring the Quality Indicators for Including Assistive Technology in the IEP
Chapter 5: Exploring the Quality Indicators for Assistive Technology Implementation
Chapter 6: Exploring the Quality Indicators for Evaluation of Effectiveness of Assistive Technology
Chapter 7: Exploring the Quality Indicators for Assistive Technology in Transition
Chapter 8: Exploring the Quality Indicators for Administrative Support of Assistive Technology Services
Chapter 9: Exploring the Quality Indicators for Professional Development and Training in Assistive Technology
Chapter 10: Using the Quality Indicators to Improve Assistive Technology Services
Appendix A: Quality Indicators for Consideration of Assistive Technology Needs
Appendix B: Self-Evaluation Matrices for the Quality Indicators in Assistive Technology Services
Appendix C: Self-Evaluation Matrices Summary Sheet
Appendix D: QIAT Planning Documents
References
About the Authors
More from CAST Publishing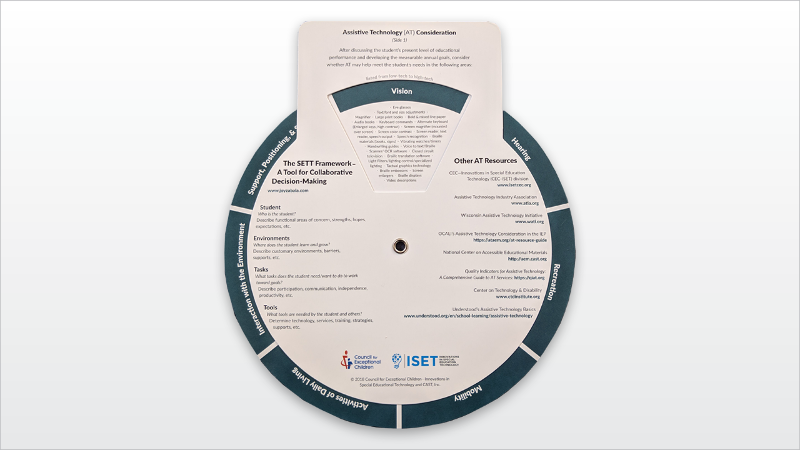 Product
The AT Wheel is a handy, compact tool that maps student needs in a variety of areas to dozens of potential assistive technology solutions.
CEC-ISET
2020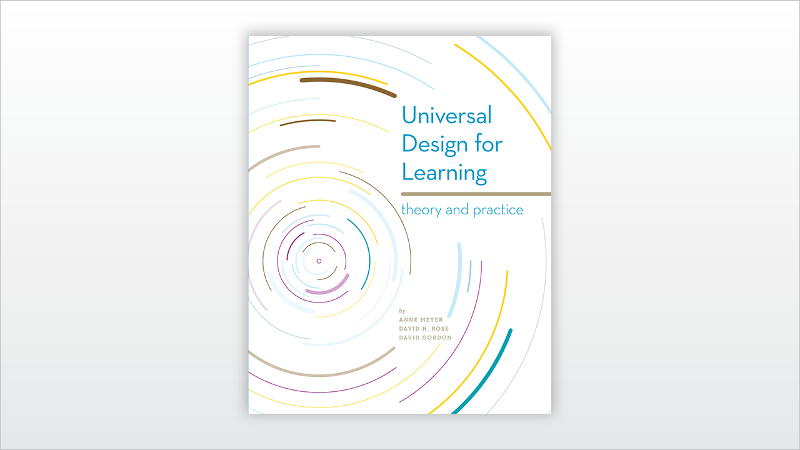 Book
This look at UDL includes contributions from CAST's research and implementation teams, as well as their collaborators in schools, universities, and research settings.
A. Meyer, D. H. Rose, & D. Gordon
2014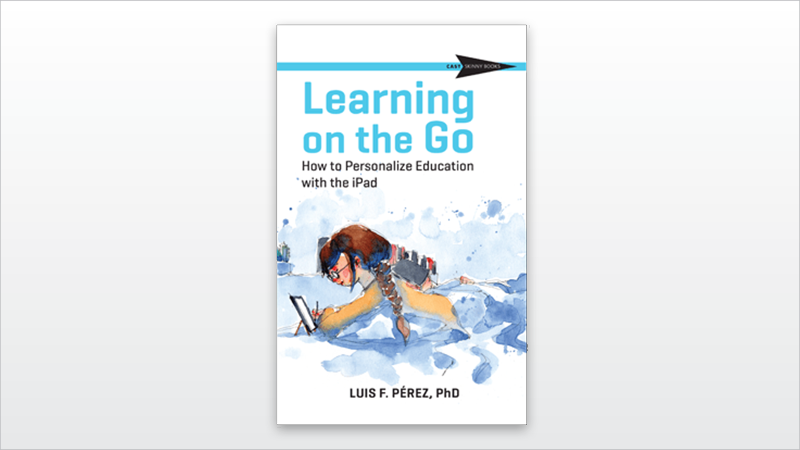 Book
In Learning on the Go, Luis Pérez provides savvy tips and strategies to turn the iPad's transformative potential into effective classroom practice.
L. F. Pérez
2018